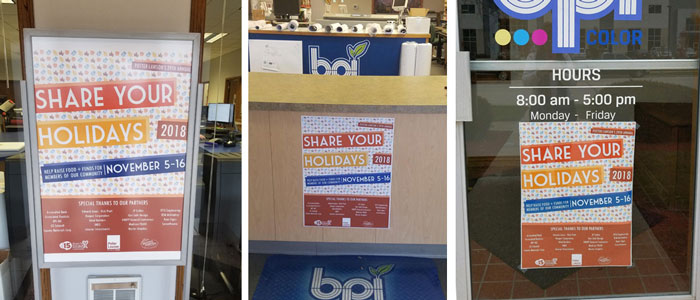 BPI Color is proud to participate with Potter Lawson with Second Harvest Foodbank of Southern Wisconsin.  This is their 29th year participating in the Second Harvest Food Drive.
This year's goal is 35,000 meals!
What To Donate…
The Second Harvest Foodbank is requesting:
Non-perishable food items
Cleaning supplies, toiletries, and diapers
Monetary donations – checks made out to "Second Harvest Foodbank" or via credit card online (link below)
Remember: $1=3 meals and 1.2 lbs = 1 meal
All donations need to be to Potter Lawson by 4:00 pm on Friday, November 16.
Fun Happenings….
Online Auction – starting Tuesday, November 6th.  I will follow up with an email with final details, but we have great items this year from business including New Glarus Brewing Co., Madison Saints Juice Company, and Food Fight Restaurants!  Please make sure to spread the word to your staff!
This year's poster is attached for you to print out and post around your office as well!
The Grand Finale
Potter Lawson will be hosting everyone, including Channel 15 and Second Harvest, for the celebratory Annual Pot Luck Lunch at our office on November 20th (no need for you to bring a thing!).  Please RSVP to me by Thursday, November 17th with your two attendees names if you're planning to join us.  Following lunch, we will form our "food chain" to load up the truck that will send our food off to the many people in need in southwest Wisconsin.
Cheers to making this another successful year…we look forward to seeing you all and thank you for your wonderful support of such a great cause!